The Grey Bruce School of Dance is a reputable non profit dance school in Hanover, Ontario which focuses on a disciplined, yet fun, environment. The primary function of this organization is to provide dance instruction to the residents of Hanover, Brockton, West Grey, and surrounding area. We recognize the importance of technique and creativity and strive to maintain high quality instruction through our experienced teachers.
Our goal is to enhance the artistic quality of the region by providing affordable dance classes to children, teens and adults. We are able to enrich and broaden the lives of our students through several forms of dance. Our students develop co-ordination, posture and a sense of rhythm. We hope to produce dedicated. disciplined dancers who possess an overall joy of moving to and interpreting music through their love of dance.
GBSD QUARTER AUCTION AND SHOPPING FUNDRAISER EVENT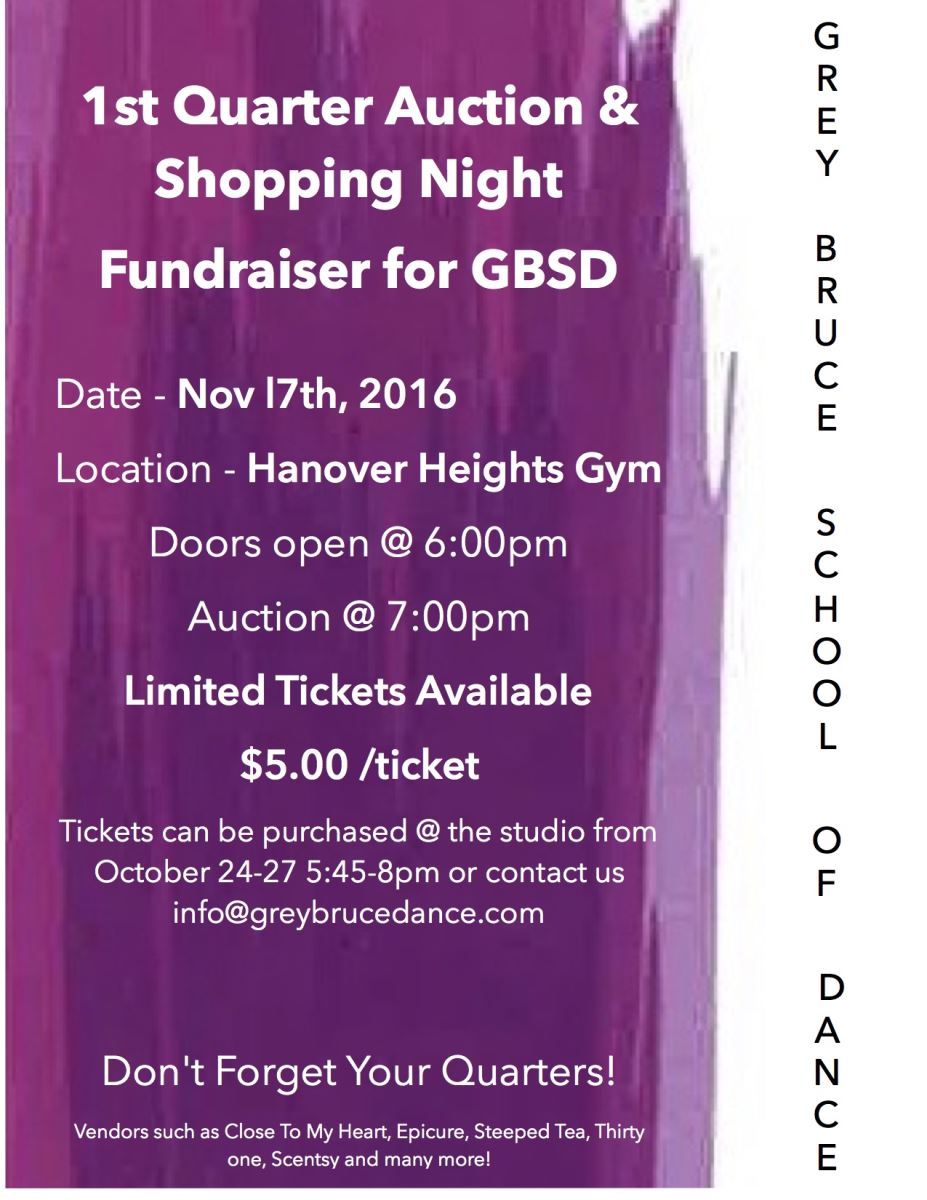 What Is A Quarter Auction?
As a quarter auction participant/player you'll arrive to the location at least half an hour in advance of the start time, loaded with tons of quarters. You want to arrive early so you have the opportunity to view all the items being auctioned off. You will also need to arrive early to make sure you get a seat. Some venues have been known to sell out!
When you arrive, you'll find a table with paddles. The paddle is covered by the cost of one ticket ($5). Here you pick a numbered paddle that you will use as your bidding number. The person selling the paddles will put a corresponding numbered chip into a bucket.
When the auction begins, each item will be displayed to the crowd and auctioned off, one by one. At this time, you will use your quarters and paddle(s) to bid. Each item will have a retail value that determines the number of quarters required per paddle to bid. For example, 1 quarter for an item with a $10 – $25 value, 2 quarters for $26 – $50 value, and so on up to 4 quarters.
Once you deposit the required number of quarters per paddle to bid (quarters are dropped into bowls on the tables and collected) you can raise your paddle(s) in the air. The announcer will begin calling numbers from the chips in their bucket. If the announcer calls a number that wasn't played (the person didn't bid and raise their paddle), that person with the number will yell out, "No bid." The announcer will continue calling numbers until there is a winner amongst those who bid and had their paddles raised in the air.
Here's an example:
Jane really wanted this beautiful new necklace. Its retail value was $50 and it required 2 quarters to bid. Jane had two paddles, numbers 6 & 104, and since she REALLY wanted the necklace she put four quarters in the bowl (two quarters per paddle) and raised both. The announcer called her first number, "2." Joe had 2. He didn't bid on the necklace so he hollered out, "No bid." The announcer called the next number, "104." "Right here!" yelled Jane. The necklace was hers! So, for a $50 item, Jane won it for just quarters.
Still muttering to yourself, "What is a quarter auction?" To sum it up, quarter auctions are good, clean fun and they don't require a lot of money to play!
Contact us - info@greybrucedance.com
Like & follow us on Facebook - Grey Bruce School of Dance - updates and info
We have a new facebook page as an addition to our homepage!
"GBSD Dancewear & Shoe Swap"
Twitter - #greybruceschoolofdance
Instagram - @greybruceschoolofdance
Don't forget to tag us using ‪#‎greybruceschoolofdance‬
We had the opportunity to participate with the Hanover Main Street Project Check out our blog post here
http://ethanbenderportraiture.com/main-street-project-029-010915/